4midiloop Review - Comprehensive Review Of 4midiloop Dj Controller - Futuremusic 4midiloop Review

November 7, 2011
../
TestDrive:

4midiLoop DJ Controller
We've been testing a boatload of MIDI DJ Controllers for Native Instruments Traktor 2 Pro lately and one entry has really captured the imagination of the FutureMusic staff. Aimed squarely at the professional digital DJ, the 4midiLoop is the most comprehensive,  best-built, 4-channel MIDI controller on the market today.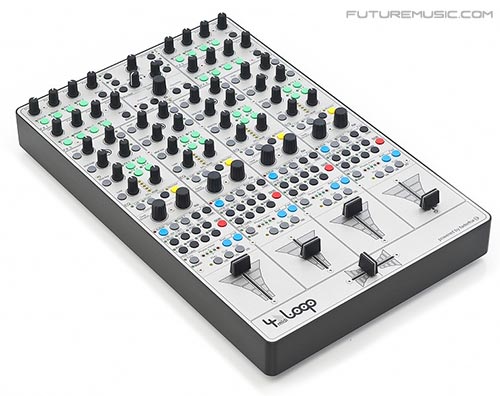 Everything you could possibly want - at once!

Hand-built using Faderfox components, the 4midiLoop defies every single DJ controller standard to deliver a one-of-a-kind experience that no other controller on the market can match. Even though, there's a Shift function, you'll most likely never utilize it since the 4midiLoop puts 227 controls at your fingertips. That's not a misprint, there are 227 knobs, buttons and faders on the unit. It is housed in a "unibody" chassis fashioned from a single block of aluminum with the best fit'n'finish we've seen on any DJ controller on the market. Our silver test unit didn't have a single mismatched seam, known as "reveals" in the industry, or ill-fitting screw.
MIDI, MIDI & Only MIDI
Besides the endless array of controls in this 4-channel workhorse, you'll notice the 4midiLoop's size. It's big. Not heavy, but certainly large for a USB-powered MIDI controller. That's right, no audio interface; you'll need to purchase a separate unit to deliver the audio from your computer. Considering other popular MIDI DJ controllers/audio interfaces on the market, this may initially appear to be a detriment to the controller's market viability, but the folks behind the 4midiLoop feel that true professionals are better off purchasing a no-compromise, audio interface that they can upgrade without having to replace their controller.

The 4midiLoop can also be configured with rotary knobs
Specifications

: » 47 Potentiometers
» 9 Push-Button Encoders
» 152 LED's
» 166 Push buttons
» 5 Eclectic Breaks Pro X Faders
» USB bus powered — consumption less than 300mA
» Class compliant - No drivers necessary
» Dimensions 11.41" (290 mm) x 2.36" (60 mm) x 17.7" (450 mm)
» Weight 3.6 kg
» Aluminium CNC shaped case from Avional
» Eloxalprint scratch proof layout

Am I DJing Or Docking To Skylab?
The 4midiLoop was designed by Mathias Fuch who worked with DJ Mole on the focus of the piece, as well as the layout, which reminded one reviewer of "what a NASA engineer might of used during an Apollo mission." What Mathias was going for was an interface where all the controls were available at once without having to resort to Shift acrobatics, as well as no-compromised control of effects and EQ, the bread'n'butter of top DJs who have embraced the post-beatmatching era. Of the five reviewers who got their mitts on this bit of kit, only one missed some sort of jog-wheel action for quickly browsing through tracks, ahem, scratching. Internally, we've been wondering when the jog wheel paradigm was going to bite the dust for the last few years, but it somehow keeps surfacing in new products.


Fuch isn't afraid to toss the jog-wheels and he even labels a small potimeter "Scratch." To us, this seems to be Mathias at his tongue-in-cheek, mischievous best, but one reviewer claimed he as able to kick out a few "baby scratches before breaking into hysterics." The point is clear, even if you're a scratch DJ (as evidenced by the video below) you can use the 4midiLoop with a turntable to get down with your bad self.
Control All Four Decks In Traktor Simultaneously
The 4midiLoop's layout was a huge hit with all reviewers who loved having "the full-Monte of effects and EQ" at their disposal. Four bands of EQ with kills and full effects control for each channel, translates into smoother, more creative mixing. However, the item that can't be overlooked is the fact that a 4midiLoop DJ has the ability to control all four decks in Traktor simultaneously, something that Native Instruments' S4 can't accomplish. In addition, having all eight cue points ready for action as a group of buttons "brought a smile to [the] face" of one reviewer who's cut'n'paste (controllerism) DJ style stands simple Dubstep tracks on their head. All the reviewers were initially taken back by the "lack of negative space" and "dense" assortment of controls wondering outloud "if there was just too much going on." However, after spending some quality time with the 4midiLoop, each one of the evaluators found their comfort zone and was able to adapt and excel with the layout. The controllerist was able to jam away on the buttons, but "wondered how much punishment those little buttons could take over the long haul."

The 4midiLoop comes in two silver variations: The Silver Bullet and Silver Moon

The pots all send out 7bit cc controller data (encoder resolution is 30 pulses per rotation) and the faders are high-quality Pro X-Fades from Eclectic Breaks. Although NI's own S4 works on a proprietary protocol for low latency and tight control, none of our reviewers complained about latency, looseness, or sloppy action with the 4midiLoop.

The 4midiLoop comes in three black versions: Black Devil, Black Pearl & Black Pearl Rotary

A couple of our testers worked out the 4midiLoop with Ableton Live and found the unit to be lively companion to the program. With so many assignable buttons, knobs and faders, it was easy to customize the interface to your exact needs.

The 4midiLoop utilizes the very best internal components from FaderFox & Eclectic Breaks
Conclusion:
The bottom line is that if you're a professional DJ who deploys a modular setup: separate audio interface, DJ MIDI controller, additional MIDI controllers, etc. and is looking for a best-in-class DJ interface with top-quality components that allows for full access to all four decks in Traktor, plus comprehensive EQ and effects control, the 4midiLoop is the answer to the question you keep posting on the forums, despite its premium price.

The Future: It's hard to imagine what else you could add to the 4midiLoop to enhance its functionality, but our reviewers did have a couple of requests. A ribbon or X/Y pad was suggested for sweeps and other effects that could benefit from a quick swipe of a finger. A section of spring-loaded, larger buttons was also put forward for lightning fast triggering. But the vast majority asked for a cheaper price "so I don't have to mortgage my apartment in order to score one of these beauties." We love the rollover action on 4midiLoop's tutorial page, but a proper manual would certainly be beneficial.
The 4midiLoop costs €1300 and is available now. More information on the 4midiLoop.

>>> Buy the 4midiLoop Now!

Advertise on FutureMusic.com!  |  Privacy Policy  |   Employment Opportunities  |  Contact Us
Copyright © 2011 FUTUREMUSIC® All Rights Reserved.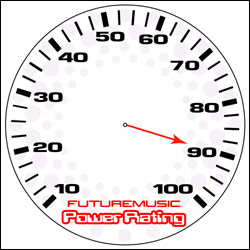 Expensive as hell, but it does everything you want, and then some, if you can bear to part with those antiquated jog wheels...